Bhagya Lakshmi 15th November 2023 Written Episode Update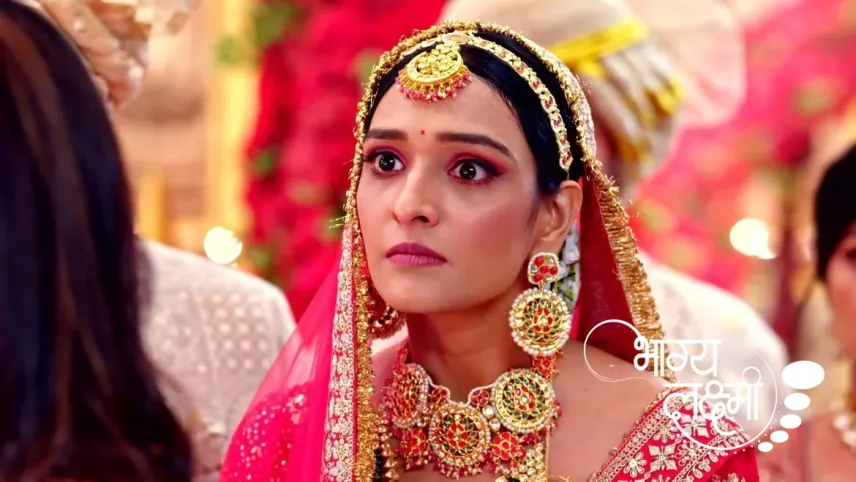 The Episode starts with Rishi telling that Lakshmi is saying truth and tells that when Lakshmi climbed the mountain, I helped her and when she fell, she had blood coming out of her head, now I know that you tried to kill her with stone. Malishka says I didn't do anything. Rishi says you tried to kill her. Malishka asks him to listen. Rishi asks shall I listen to cheap person like you, if you are suitable to talk to me. He says nobody will do such a cheap thing with his/her enemy too. He says you tried to kill my love and regrets that he had relation with her before.
Malishka swears and tells that she didn't do anything. Neelam slaps her and says I didn't think that you are cheap and has a dirty heart. She says you have killed humanity too, and tells that she has fought with her son, husband and family, and accepted her as bahu. She asks if you was not afraid that what I will do when I come to know that you tried to kill my son. She says I was cursing Lakshmi and she saved my son and you tried to kill him. She says I was asking Rishi to marry you, and you were planning to kill him.
Malishka tells that she tried to commit suicide for him and says she loves him to this extent. Ayush asks if this is your love, you want to murder my brother as you couldn't get him. Shalu says Lakshmi di also, and tells that you think her as enemy, and says actually you have come between them.
Ayush says Rishi Bhai haven't betrayed you. Malishka says he betrayed me, as he promised me, but married Lakshmi. She asks if you can't see your brother's betrayal and says he has killed my love and heart, and I didn't do anything. She says why nobody see my pain. Karishma says which pain, you have hurt bhabhi a lot. Dadi tells that Neelam saw your pain and that's why threw her son away and brought you as bahu. Virender says she shall feel ashamed. Bani says she shall feel ashamed of her doings and calls her witch. Sonia says you shall go to hell, for trying to kill my brother. Neha says Bani is right, she is a witch.
Rano says she is not witch, as witches leave 7 houses, but she is naagin. She tells Neelam that she was making the naagin drink milk and asks what punishment she will give to her. Neelam tells that she will punish her for her doings. Malishka says she didn't do anything and says Lakshmi is lying and asks why you are doing this. She says I love Rishi, why I will kill him, everything is a lie. She asks her to ask Lakshmi, why she is lying and asks what does she wants. She says you are getting married, just be happy, why you are behind me. She asks you are trapping me, and asks why I will hit you with stone.
Shalu says you tried to kill them. Malishka says if Lakshmi says that I tried to kill her in hospital, then if it is right. Bani says you are her enemy. Malishka says she is not Rishi's enemy and loves him. She says she is not mad and says she will be hanged or jailed if she does such a thing, and says she regards Neelam as Mom, and why she will kill her son. Ayush claps and says she is acting well, and says if I had not known your true face, then would have believed your acting, and says you are saying with conviction. He says you are mad and tried to kill Rishi.
Malishka says I love Rishi and asks Lakshmi why she is lying. Lakshmi says I don't lie and you are lying even now. She says you have still lie on your mouth, rather than repentance and penance. She says if you think me wrong, then look at my eyes and says it will be proved who is lying and who is saying truth. Malishka asks what she wants to proof. Dadi says Lakshmi never lies.
Malishka says Lakshmi can have misunderstanding. Lakshmi asks her to say the truth. Ayush says I have seen her true face already. Karishma scolds her. Sonia says she don't want to see her face. Malishka asks Neelam to believe her. Neelam asks shall I believe you? Malishka says if you want to punish me then do it, and says I will give agnipariksha to prove myself. She says this is marriage fire and says if I didn't do anything and if Lakshmi is lying, then nothing will happen to me.
She says if I am wrong then my hands will burn, and I will go to PS and accept the crime. She asks if this punishment is enough, and compares herself to Mata Sita, and says she will also give agnipariksha to prove her to be truthful. She goes to the mandap and sits there. She keeps her hands on the havan fire and says nothing will happen to me. Everyone looks shocked.
Sonia comes to Malishka. Malishka says nothing will happen to me, my hands are in the fire. Sonia asks why your hands will be in fire. Malishka thinks I was imagining everything and it was all bad dream. Abhay tells that Malishka refused to come home and is trusting them and not us. Kiran says it is not like that. Abhay says what is there now. He says Neelam is changed completely and she is on Lakshmi's side and getting her married to Rishi. Kiran says even I am shocked, and says Neelam used to hate Lakshmi, but now getting her son marry her. Abhay says our daughter is completely broken. He says Neelam will take her son's side. Kiran says Neelam regards her as her daughter. Abhay says it is rubbish. Kiran says Neelam will support her son.
Sonal says I shall not say, but you both are forgetting that Lakshmi has trapped Rishi to such an extent that he married her again. Kiran says I was telling the same to Malishka, she should have done this, but Lakshmi has done it. Abhay tells Kiran that right now they have to think to save Malishka else she will be in jail. Kiran says I tried to make her understand, but she wanted to suicide. Abhay says Malishka has committed suicide only. Sonal tells that they shall leave the country with Malishka.
Abhay tells that Malishka didn't come back, and tells that what she will get by becoming nice in Neelam's sight, and says the latter is loyal to Lakshmi now. Kiran says this is happening due to Malishka and tells that Neelam had almost lost Rishi and that's why accepted Lakshmi. Sonia tells Malishka that if she wants to become mad as she didnt get Rishi, like the guy became Devdas as he didn't paro. She says you should have done something to marry Rishi rather than doing this. Malishka thinks why Lakshmi is silent, if she is playing game with me.
Precap: Abhay calls Malishka and asks her to leave from there immediately, else he will also not save her. Malishka hugs Lakshmi and whispers threat in her eyes and says she will kill her and Rishi if she tells anyone about her. Later everyone gets shocked to see Lakshmi.
Update Credit to: H Hasan