Anupamaa : Babuji Calls Anupama to Shah House !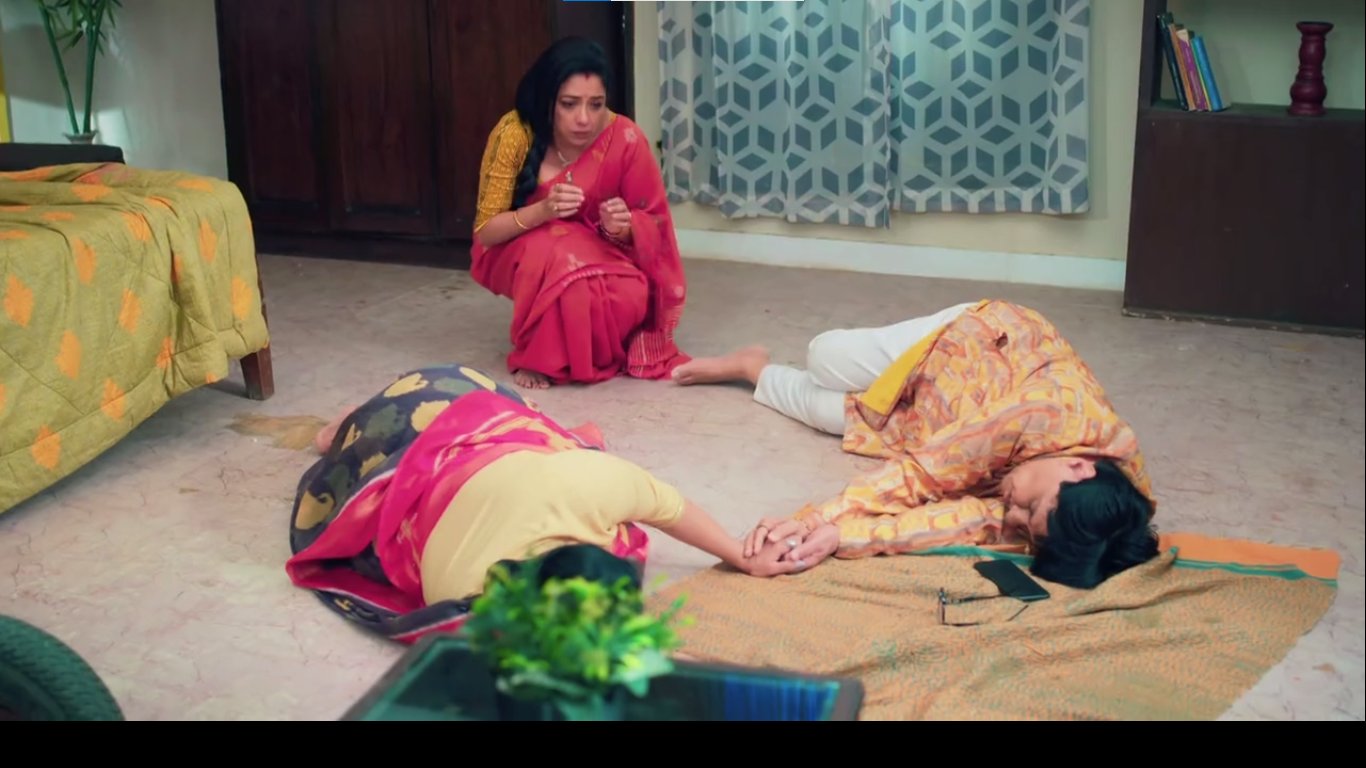 Anupama reaches Shah house and sees Baa and Babu ji unconscious on the floor. She gets shocked. Choti insists that Anupama shall come to her. Malti Devi asks her to have soup with her hand. Choti refuses and asks why Mummy went there. Anuj says don't say like this for Mummy. Malti Devi says Choti is unwell, why Anupama went there. Anuj tells that Baa is unwell and needs Anupama. Malti Devi asks Leela has Hasmukh, Dimpy and Kavya, why Anupama went there, and says travelling in two ship will drown the person. Anuj looks on.
Anupama's hand shakes up while calling them. They open their eyes relieving Anupama. Baa says Anupama. Anupama makes Baa get up and makes her sit. She asks how did this happen? Baa says he was taking me to bathroom, and because of me…babu ji says my foot twisted, I couldn't balance and fell down. He says I called everyone, but nobody came. She says I couldn't control and my clothes got ruined. Babu ji says it happens in illness. Anupama says I will clean it and asks her not to worry. Babu ji says we remembered and called you. Anupama makes him sit on the chair. She makes Baa gets up and takes her to bathroom. She brings Baa after changing her clothes. Baghban song plays……She makes her sit on the bed and wipes Baa's face. She then applies roller balm on Babu ji's foot, thinks of Choti and gets worried. She then makes Baa and Babu ji laugh with her jokes.
Barkha asks Malti Devi why you was arguing with Anuj, when he doesn't listen. Malti Devi says Anuj does so much with her children and she doesn't have time for Choti. Pakhi says look, who is talking and says you have left your son in orphanage, and pointing fingers at others. Malti Devi asks her to be in limits. Pakhi says Buddy does everything for you both also, along with Mummy kids. Malti Devi asks why don't you take care of Choti when your Maa goes to Shah house. Pakhi says you does planning and plotting all day with Barkha aunty. Barkha says she misbehaves with her husband also, my brother works all day, and then comes home to hear her tantrums. Pakhi says what you does with Ankush uncle, and says your tantrums is more than my tantrums. Pakhi asks her to stay in limits. Malti Devi asks if your mother didn't teach you manners? Pakhi says you have left your son, so why you give lecture on parenting to everyone. Barkha asks her to shut up. Pakhi says you shut up and says if you want respect, then be deserving. She goes. Barkha says she told me shut up. Malti Devi says everyone is dancing, time has come to show their value to them, and says she will oust everyone from the house.
Kavya and Dimpy apologize and cry while clarifying that they stopped hearing Sarla fighting with someone, they had gone to buy fruits but got late. Anupama asks them not to cry and go and drink water. Babu ji asks Anupama to sit with them. Anupama thinks of Choti and sits….and holds their hands and keeps on her cheeks. Babu ji says for the first time he felt helpless, and tells that's why people get afraid of old age. He says they were afraid to die before the other.
Anupama asks him not to think much. Baa tells that they don't want to be burden on her. Anupama says elders are the blessings which only fortunate people gets. She says family is family when everyone stays together, and says don't be ashamed of old age, old age is the treasure of understanding, maturity, knowledge, experience etc. She says the youngsters walk on the right path if old age family member is with them, and asks her not to call themselves as old aged. She asks her not to think anything. They hold her hands.
Anupama asks if I shall go home now, as Choti is unwell. He says Kavya and Dimpy will come. Babu ji asks her to go. Anupama leaves. Baa and Babu ji tell that if Anupama is not with us. Kavya and Dimpy tells that they are with them. Baa says Dimpy, you was about to leave. Dimpy says she said this in anger, and tells that she will not leave her baa in this condition. Baa says this is family. Babu ji says you both needs rest.
Anupama cheers up Choti wearing tiger mask and explains to her that Baa was unwell so she went. She asks Choti if she is angry with her. Choti says no and says she missed her. Anupama says I missed you too and says she has brought magic for her, and shows her the toys and balloons. Choti hugs her. Anupama says you are my jaan…She says your fever went. Choti says it was scared of sher khan. Anupama thinks of Baa.
Kavya says it is good that they have ludo game of Choti. Baa and Babu ji get emotional. Kavya and Dimpy think of Vanraj and Samar. Kavya says they shall laugh to make them laugh. Dimpy says yes.
Anupama checks Choti's reports and says thank god it is fine. She tells Romil that you care for Choti so much. Romil says he used to get irritated with children before, but since Choti tied him Rakhi, he got caring for her and kids. He reminisces and shares his childhood moment with her, and tells that he got teary eyes when everyone was taking care of Choti. He also wanted someone to have his/her hand on his head. She then keeps her hand on his head.
Anupama says I am there for you always, blesses him to be a big man and shall live long. She says she will miss him when he goes to America. Romil hugs her and tells that she is really Anupama, like her name. He asks her not to let Malti devi stay in the house, and says she will separate you both. He asks her to take care and goes. Anupama thinks nobody can separate them.
Anupama promotes Jhanak. No Precap.

Update Credit to: MA