Yeh Rishta Kya Kehlata Hai : Akshu & Abhira Fight for Justice !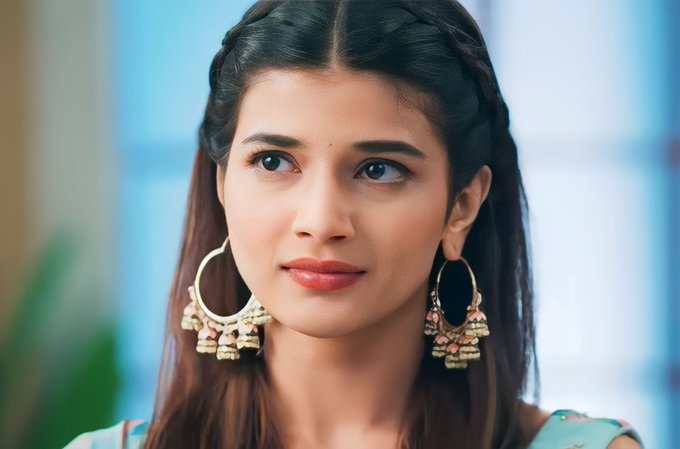 The Episode starts with Akshu and Abhira consoling Smita. Kipling says they aren't taking Anurag's body for post mortem, I have a known person in the police station, he said inspector wants to dismiss the case by taking money from Jagrat. Akshu says I will fight the system and send Yuvraj to jail. Abhira says we will send him to jail. Kipling says Jagrat is MLA, he can do anything to save his son, compromise, drop the case. Akshu asks him to think. Smita says Yuvraj will get punishment. She cries. Kipling says you have a life to live. Abhira says but her life is snatched. Smita says get justice for Anurag, I had seen Yuvraj driving the car. Akshu and Abhira hold her hands. Main tumko nai chodungi…. Plays… Akshu says Raavan has always got defeated, even today's Raavan won't get saved.
Vidya and Kajal compete in making Rangoli. Everyone cheers for her. Sanjay asks Dadi who do you want to win, bahu or daughter. Dadi says I m special for both Bahu and daughter. Manisha says Wah wah, sorry, you said like shayari. Sanjay asks Kajal to hurry up, Vidya is making a good Rangoli, keep some standard. She says yes. The kids feel bad. Ruhi sends Rangoli's pic and asks how is it. Armaan replies its really nice, but learn to make it better than mum. He sends Vidya's Rangoli pic. Rohit says time is up. Dadi says now we will do voting. Armaan says mum will win. Krish says it's a tie.
Kiara says Madhav is the tie breaker. Madhav comes to judge the Rangolis. Kajal asks how is it. Madhav goes and says Kajal's Rangoli is better. Kajal smiles. Everyone claps for her. Kajal asks Sanjay how did you like it. He says good, congrats, you won something in life. Vidya says don't worry, I didn't feel bad, I got habitual to lose because of my husband. Dadi says three Rangolis will be made next year. Everyone teases Rohit about his marriage. Dadi says when the marriage gets fixed, we will tell everyone.
Armaan thinks I have a surprise for Maasa and Dadisa, two bahus will come home next year. Abhira sees the Diwali decorations set in the lawn. She hears Yuvraj's voice. He wishes her happy Diwali. He says no one can touch my Abhira in front of me, I will come back till my haldi day, keep this gift as wedding shagun. She breaks the Bluetooth speaker. She recalls Yuvraj's words.
Manish wishes Vidya happy Diwali on call. Vidya asks did you talk to Ruhi. He says yes, she wants some time. Dadi asks why. He says marriage is a big decision, if she wants to take some time to think, then I think no one should have any objection. Vidya says you are right, tell us when she gives an answer. She ends call. Dadi gets angry on Ruhi.
She says Rohit will be the best husband. Vidya says please agree for my sake. Dadi says okay, I will wait if you say. Armaan calls Ruhi and asks her to look up. She sees the message in the lights show in the sky. She says yes, we will go on date tomorrow. He gets glad. They have a talk and smile. Kesariya….plays…
He applies the blue colours to his face and says I have applied the sky colour to my face, you also apply the sea colour, then scores and love will get equal. She smiles and applies the blue colour. He clicks his pic to her. She also sends her pic to him. He says my family will get happy on knowing this. Abhira runs somewhere and gets tired. She cries. Akshu argues with the inspector. Abhira comes and says I know where is Yuvraj, he is at Ghantaghar. Akshu asks are you sure. Abhira recalls hearing the bells sound. Akshu asks inspector to go and get Yuvraj. Inspector leaves. Akshu says good, you helped us.
Abhira says we have to fight this case and win. Kipling says you shouldn't lose courage. Abhira says justice will win, we will win. Manish thinks of Abhira. He worries for her. Surekha asks are you worried for her. Suwarna says some people are so lovely. Manish says I feel I have some relation with that girl, I wish she stays fine. Suwarna says she would be very happy, we had seen her and her mum handling the resort. He says no, I couldn't meet her mum, its strange. Surekha says yes, her mum didn't come in front of us. Akshu asks did you inform at the resort. Abhira says yes, staff has made preparations for last rites. Police brings Yuvraj there. Yuvraj asks Akshu to bless him to get bigger baraat next time. He sings O Abhira Maan jaa…
He showers flowers on Abhira. Akshu says inspector, put him behind bars. Yuvraj goes to the lockup. Akshu says I have to discuss chargesheet. Yuvraj whistles seeing Abhira. Jagrat comes there and threatens her about Akshu. Abhira worries.
Precap:
Yuvraj says I came out of the jail. Abhira says you will get jailed. Ruhi waits for Armaan. Abhira praus. She comes across Armaan. They see each other.
Update Credit to: Amena