Anupamaa: Kinjal & Toshu Depart to UK !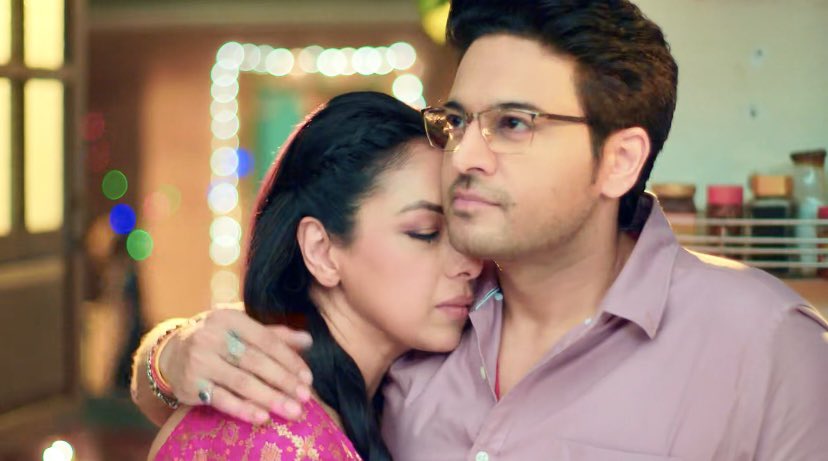 Anuj asks Anupama why she didn't call him before if she was so worried. He says he would have come running. Anupama says I know, but I don't want to trouble you. Anuj says it is not good that you don't call me to help you. He jokes that if he hadn't come then she would have thrown roller to their house. Anupama thanks him. Anuj says Baa will be fine. He tells her that Doctor said that he didn't tell everything infront of Babu ji. He says Baa's condition is serious and tells that everything will be fine, tomorrow there will be her tests done and we will get her treated.
He says we can't do anything for her worries. Anupama asks about Choti and says you should have rested too. Anuj says he made her sleep and come. He asks if she will have tea or icecream. Anupama says they don't have icecream in the fridge. He asks if she wants to have it. Babu ji checks Baa's BP. He holds Baa's hand and says don't leave me. He says if anyone has to go then I will leave. He says I want to hear your chik chik in the morning.
Anuj and Anupama are in the kitchen. Anuj grinds milk and fruit and makes Anupama have it. He tells that if not icecream then something close to it. Song plays…Ishq me dube hum toh. Anupama keeps her head on his chest.
Next day, Anupama and Anuj talk to Doctor. Doctor tells them that Baa's condition is serious with 70 percent heart blockage. Anuj asks if he recommends surgery? Doctor says surgery is not adviced in this age and says she shall not miss any medicine, else she needs to be hospitalized and proper care. Anupama is shocked. Doctor leaves. Toshu and Kinjal are leaving from the house.
Toshu tells Babu ji that they have to leave early as it is international flight. Babu ji asks them to take care and don't worry about them. Kavya asks her not to worry about Baa and Babu ji and says she is with them, and focus on work. Kinjal asks her to send baby photos and says all the best for delivery. She says she has kept Pari's toys for baby and says I miss you. Kavya says I will miss you too. She asks Toshu to take care. Kinjal hugs Dimpy and tells her that she has stick the numbers of the milkman, gardener etc. She says I will message about Babu ji's medicine.
Dimpy says sometimes I will make video call to see Pari. Pakhi comes there with Adhik, and hugs Toshu and Kinjal. Toshu asks Adhik to take care of her. Pakhi says she will come there to tease him. Toshu says surely. Anuj gives them euros and asks them not to think wrong. He asks them to join Indian club if they feel home sick and asks them to message him if they need baby sitter. Kinjal says Papa will take time to come and asks him to take care of everyone. Anuj assures them.
Kinjal and Toshu hug Anupama. Toshu says we had went to Baa's room and kept her hand on Pari's head. He says we didn't disturb her, as she was sleeping. Anupama takes Pari in her hands, and blesses her to go happily and return soon. She asks her to learn English more good than foreigners, but don't forget their mother language. She gives spices and achaar's bag to them, made by Maa. She takes them to inhouse temple and ties holy thread on their hands. She asks them to go and don't worry for them.
Baa comes there and says you are leaving without meeting me. Kinjal hugs her. Toshu says you was sleeping and that's why we didn't disturb you. Baa says sorry for scolding them. Kinjal says we have to go anyhow now, and asks her to sit on the swing once. Baa sits on the swing and says they have to buy everything to start their new living. She asks them not to trust strangers and resolve their fights if they fight, and take care of Pari.
She says you both love each other, but shall smile looking at each other and shall give water to one another when they come from outside. Babu ji asks why didn't you execute your learnings. Baa says everyone knows about it, but don't follow. She asks if they have kept the achaar, papad, spices.
Anupama feigns smile on her face as they are leaving in the car. Anuj, Adhik and Pakhi go to drop them. Anupama breaks down and cries as they leave. She recalls their moments. Baa comes out. Anupama hugs her and cries. Baa asks her not to cry and says she don't want to live, as everyone is leaving her one after the another, and she wants to leave this world. Anupama asks Baa not to say this, and looks at Kavya.
In the morning, Toshu calls Anupama and tells that they have reached safely. Babu ji asks Baa to get well soon and says we will go to visit them. Baa says I can't sit in plane as I don't know how to fly and can't sit in ship as I don't know how to swim. She gets emotional and says whoever goes to foreign, don't return so we have to go there. She says Pari will become English person now and says they will not return. She then worries for Vanraj and says we have become fully alone. Anupama checks her BP and asks her not to think much.
Precap: Babu ji is taking Baa to bathroom, he slips and they both fall down on the floor. They call Kavya and Dimpy for help. Choti tells Anuj that she is unwell and asks him to call Anupama. Babu ji calls Anupama for help.
Update Credit to: MA